Project Management of School Building Program

Trusted Business Advisor

Project Management of Warehouse Relocation

New Business Model Development

Supply Management & Product Packaging Optimisation

Manufacturing Process Improvement

Value Chain Analysis of Production

Business Process Redesign for Labour Hire

Quality Root Cause Analysis and Action Planning
Client: Private School
Project Objective: Develop and expand the school campus with modern buildings and infrastructure
Project Summary:
Represent the school through the design and building phases
Facilitation of decisions on where and how to meet the strategic plan
Supporting discussions with funding providers and the Board
Managing all non-construction contract but affected activities - alternative accommodation, relocation, IT etc
The Challenges:
Avoiding the perception by parents that the school is a construction site
Co-ordinating conflicting needs, demands and priorities
Maintaining and enhancing an industry recognised brand and reputation
Ensuring least disruption possible to daily school activities without impacting on the construction critical path
Solutions:
Frequent, brief and clear communication with all stakeholders
Rigour in both setting of, and then adherence to, short-term action plans
Establishment of review and decision making processes
Removing uncertainty and providing clarity of cost, time, safety and quality as well as ensuring all loose ends are taken care of
Outcomes:
Successful transformation of the campus over two years
Incident free and harmonious construction period with any impact or interruption well planned and communicated
Maintained 'business as usual'
Stakeholders kept informed with relevant and timely information
Growing market reputation for a modern and caring learning environment
Delighted Client
Client: Mid-sized construction products distributor wanting improved outcomes.
Project Summary: 
Independent and pragmatic governance of the delivery of change initiatives
The Challenges:             
Leadership had a clear strategy and knew what needed to be done to enhance business outcomes and increase enterprise value but were struggling with sustained execution of the required change initiatives.
They lacked clarity on where to start, the appropriate sequence of steps and the change management techniques that would deliver the best results.  That is, they lacked experience in efficient and effective change management. 
Solutions:
EPRAKT provided a client specific combination of: 
Converting business strategy into change initiatives, which involved
Confirming actionable elements of the business strategy and their possible time horizons
Definition of those immediate and critical actions that matter
Analysis of current business outcomes and setting of performance targets and milestones linked to the critical actions
Identification of emerging opportunities
Evaluation of the effectiveness of functional activities and how they are measured
2. Facilitating or leading execution, which involved
Project management
Implementation of process improvements
Compliance with quality and safety requirements
Vendor selection and contracts
3. Executive coaching, which involved
Mentoring the business leader and selected members of the management team
Ongoing "show me" and/ or "do it with me" support with the execution of specific longer-term initiatives
 
Outcomes:
Our approach ensured that we built management team capability in leading business change through their approach, management of permanent behavioural change and successful introduction of new processes and systems.
We left the client with an enhanced rigour and discipline in business systems and with a management team that was more effective in "working on the business" rather than only "in the business".
As a result, the identified change initiatives are realised to their fullest potential.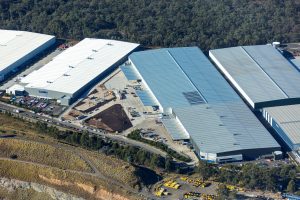 Client: Global leader in supply chain management
Project Objective: Rapid migration of two warehouses to a new facility
Project Summary: New facility to open; two older facilities to close at end of lease
The Challenges:
The older facilities have end of lease commitments and must close on fixed dates
The new facility will only open one month before the close date on the older facilities
High volume of goods to be migrated into the new facility: approximately 16,000 pallets
All goods to be meticulously tracked and accounted for during the migration
Engagement of numerous external suppliers: transport, MHE, labour hire companies
Solutions:
Intense and detailed planning for two months prior to go live
Comprehensive engagement of all stakeholders: management, employees, IT, Solutions, labour and MHE hire, transport providers
Trial runs of the best and most efficient processes
Detailed budget planning leading to full prior approval from the end user customer for the budget
Risk planning and mitigation
Weekly reporting to a senior Management Steering Committee during the planning process
Daily progress meetings and reporting during the go live stage
Outcomes:
More than 6,000 pallets migrated
More than 400 B Double truckloads moved
A workforce of approximately 40 people successfully engaged, many not previously employed with minimal performance issues
Project completed ahead of schedule and under budget
Client: The industry leader in the provision of information and analysis services
Project Objective: The business' annual sales growth since the GFC had been slower than in the early 2000s causing both profit and cash generation to be below expectations
Project Summary: Determine and assist in implementation of a new business model
The Challenges:                     
The Client recognised that market conditions had changed since the GFC but was unsure about how to respond
Expansion into the Asia Pacific region had been commenced however the "beachheads of activity" were struggling to generate a profit
The domestic market had fragmented with the entry of financial services companies augmenting their offer with information and analysis services
Compared with global or regional players the Client's relatively low economies of scale were restricting growth and profitability
We identified several business process improvements as lacking and resulting in poor effectiveness
Solutions:
An ongoing mentoring programme was commenced to allow the business managing director to discuss, debate and determine appropriate initiatives
This resulted in the business implementing new processes, making changes in organisation structure, position descriptions, job goals and a revitalisation of performance management
Outcomes:
Profit and cash generation improved as sales growth was increased
However, the inherent limitations of the current business scale and model were realised and so,
The business owners took to opportunity to be acquired by a global player in the same industry
Client: National stockist distributor of imported reticulation and plumbing products used in high pressure industrial (primarily manufacturing and mining) applications
Project Objective: Over the preceding few years the Client's profitability had been undermined by high and increasing cost-to-serve ratios
Project Summary: Packaging optimisation
The Challenges: 
Product was imported from low-cost country manufacturers (South-East Asia) in bulk
Orders were placed monthly with most SKUs ordered at least six times per year
The Client had positive and open relationships with their top five suppliers who accounted for in excess of 75% of volume
There was just over 2,000 SKUs held in inventory, each with a relatively low value and weight and almost all shipped direct to and held separately in each state of Australia
The Client had a highly fragmented customer base of maintenance sub-contractors and end-user "general stores"
Maintenance sub-contractors ordered by estimating each of their job's needs while end-users generally operated a "max-min" re-order system
The average sales order size was below $1,000
Our data analysis showed excessive warehouse labour hours in picking, packing and despatching of orders
Solutions:
We conducted an analysis of order size history by SKU (average and range)
This led to the identification of an ideal minimum sales order quantity by SKU that could be offered to the market
Calculated minimum sales order quantities were tested with, and in some cases amended, following interviews with a sample of the Client's customers
Minimum sales order quantities per SKU were then set; limiting the number of alternatives to five
We facilitated negotiations with the five primary offshore suppliers to package their bulk shipments into multiple cartons or bags each with containing the revised minimum sales order quantities
Outcomes:
While implementation in the market was immediate, benefits were realised over time as existing stock was sold and replenished with pre-packaged goods
The additional packaging resulted in a 2% increase in COGS
This was more than compensated by a 50% reduction in warehouse labour costs as picking and packing times were slashed
In addition, handling packaging rather than the goods led to a 90% reduction in cuts and scratches
The Client received positive market feedback was customers experienced a parallel "ease of product handling"
Client: Part of a larger organisation, this business unit is a food processing business manufacturing and selling high quality product for the retail market from a single site operation
Project Objective: The Client was seeking to understand the causes and identify actionable remedies of poor process control; manifested in high inventories of work-in-progress and excessive daily crisis management
Project Summary: Push to pull manufacturing
The Challenges:                     
The product being manufactured was shelf-life sensitive requiring full traceability and placing pressure on manufacturing lead times
There was no effective business-wide production plan in place due to both system limitations and people capability restrictions
Consequently, each stage of production operated in isolation, responding to the production outputs of the step before them and pushing value added product to the step following
The Client was struggling to service the reasonable demands of its retail customers causing a high level of daily expediting, rush jobs and panic scheduling of work
Management had grown accustomed to this reactive working environment life; they saw it as inevitable and had learnt to enjoy the "thrill" of responding to crises
Solutions:
With the support of senior management, we introduced production planning capabilities through simple systems, processes and work practices
We designed and implemented a mini Sales and Operations Planning process
This was reinforced by facilitating with management the re-setting and alignment of job goals and metrics
As these actions took effect and cash was released as daily crisis management was reduced, the business was able to properly investigate more automatic and integrated IS solutions
Outcomes:
Approximately 50% reduction in work-in-progress
Significant fall in labour costs through reduction of FTEs
DIFOT from mid-70% to in excess of 90%
Client: This second-generation family business is a producer, processor and trader of protein products (red meat) for the retail market
Project Objective: The Client was seeking clarity on where value was being created and destroyed across its internal integrated value chain, and what actions should therefore be initiated
Project Summary: Value chain management
The Challenges:
There was no systematic planning in place across the value chain
Each of the production processes determined their activities in isolation and all were focussed on volume with the effect of "pushing" product through to the next manufacturing step
In isolation of an overarching approach, production leaders were working at several levels below ideal
We conducted a value chain audit which highlighted many efficiency opportunities, which were quantified by value of benefit, cost-to-implement and risk
A high variation in the selling price per output type was not a driver of production
Solutions:
Five key imperatives identified and for each a detailed implementation plan developed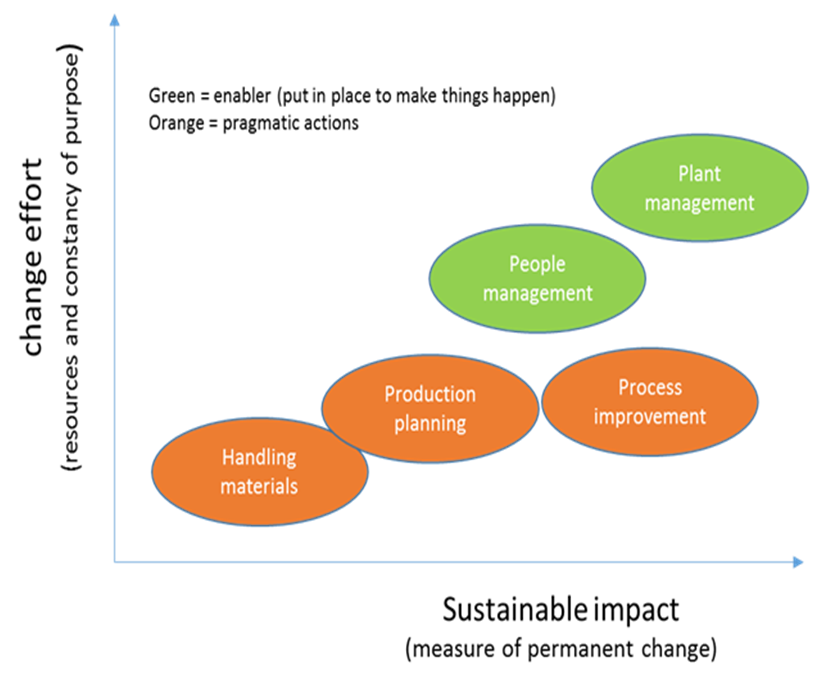 Outcomes:
Financial benefit in excess of 5% of sales volume were identified, qualified and presented for implementation
Using these implementation plans as a base, the Client executed changes in organisation structure, position descriptions and job goals
Some leadership roles saw new incumbents
Implementation was completed by the Client
Client: Large scale services provider for the operation, maintenance, and management of public and private assets.
Project Objective: Direct cost reduction in the provision of contingent labour (ad hoc short-term hire) across hundreds of client-side contracts across ANZ and the US supplying over 1000 individual engagements daily 24x7.
Project Summary: 
We knew we were about to undertake a significant change to the way this service business did their daily work
Aligning the hundreds of contractual commitments made under very loose arrangement required design of a change program that focussed heavily on no disruption to service.
A key structural element was the introduction and progressive transition to new tracking tools
The Challenges:
Reduce service failure (the contract) and risk (our commitment to safety and quality) and remove uncontrolled overheads
Re-engineer processes to assure business level adherence to company policy
Apply higher competencies via outsourcing management of contingent labour providers
Solutions:
Engagement across the matrix organisation to aligment to a standardisation of corporate policy
Appointment and integration of a managed service provider and its tools
Central commonality of contract terms leading to negotiation benchmarks
Outcomes:
Profit delivery to corporation of 10x the preceding EBIT performance of this stream
Reduction in supply base from #240 loosely committed providers to 24 contracted providers
Client: Mining Services Provider
Project Objective: Identifying the source of costly quality problems
Project Summary:
The overall value proposition of the client's customer was to provide a high specification consumable product to a defined quality level and DIFOT requirement
Failure of their service promise impacted badly on free cash flow characterised by:

scrapping and replacement of large amounts of product often at remote customer sites
extended clients plant stoppages incurring liquidated damages penalties
quarantine of raw material stock (dead cash) and storage bottlenecks
management time cost
The Challenges:
The business was a niche supplier held in high regard as a viable alternative to bigger players
Although the client's senior team appeared to have a well-oiled enterprise with excellent approach to waste and continuous improvement, the actual approach needed challenge
Recognise the need for a review of the client's manufacturing activity (people, systems, technology and process) and organisational structures across multiple sites focusing on variable quality outcomes
Was it Art versus Science? Recent attempts to fix included upgrading testing processes, acquisition of higher calibre people and extensive capital expenditure of process controls equipment
Solutions:
Gap analysis addressed established internal standards, assumed technical skills, levels of delegated authority, capital investment effectiveness and leadership competencies
Review of the client's leadership structure revealed a varied response between safety, customer and quality values
The safety infrastructure was, in itself excellent, but when customer issues arose SOPs and records were reviewed rather than senior managers actively engaging. As a quality assured supplier the focus was on low impact, high frequency events (assuming great control of variation) and so leadership assumed their commitment to safety and customer needed to go no further
A recommended review of drivers of success in safety performance led to a parallel review of quality systems to assure alignment of leadership response and outcome-focussed role clarity
Outcomes:
The executive team removed barriers to continuous improvement thinking and moved away from statistics and empirical approaches to more holistic view of quality and client expectation
Adoption of more robust business case review of technical solutions seeking capital expenditure
Improved dashboard reporting and associated meeting practice including performance reviews to drive behavioural change
We would love the opportunity to talk with you about maximising your business potential. Get in touch and see how we can help you achieve your overall business objectives, plus more.